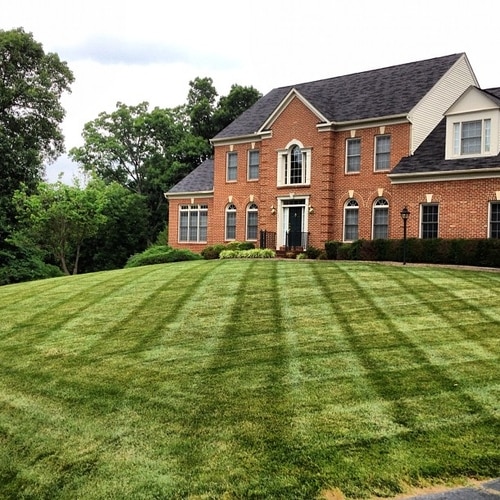 I accepted the proposal, what do I do now?
Once you accept the proposal, you will receive a follow up email with instructions to complete the signup process. You will need to enter a credit card for us to store on file to be billed once services have been completed. Once entered, you are all set- you are on the schedule for service and do not need to do anything else.
How do I pay for services?
We require a credit card for payment at the time of sign up. All of our services are pay-as-you-go so you will only be billed once services have been completed. We email invoices on the 1st of the month and charge card on the 5th of the month.
There was an error on my invoice, how do I make sure I don't pay for it?
Since we email invoices on the 1st of the month and charge card on the 5th of the month, you will have several days to bring any billing discrepancies to our attention. Although rare, mistakes do happen!
When does the mowing season start/stop?
We typically mow starting the first week of April until mid November. This depends upon a lot of factors including seasonal weather conditions the may alter this time frame. We monitor our lawns closely and will not perform a service if your lawn does not need it.
How soon can you perform the first service?
We can perform the first mowing the following week depending upon which day we assign to you. In the event that the grass is very tall, we will double-cut your lawn to reduce the stress caused from this mowing.
What height do you cut the grass?
Tall Fescue grass, our predominant turf type, requires mowing between 3-4″ high. Doing so is beneficial to your lawn for many reasons including reduced weed pressure and deeper rooting which allows your lawn to better withstand heat and drought. Often times in the heat of the summer, we will raise our mower blades to 4″ during this very stressful time for your lawn.
What height do you cuaWhat day of the week will you mow my property?t the grass?
We like to assign days of the week to our clients so you know when we will be coming. These days are assigned based upon when our crew will be in your area. We will let you know when you sign up what day of the week your property will be serviced. In the event of weather delays, your mow will be pushed back to the next available date, and the weekly schedule will resume the following week.
What hours of the day do your mow crews work?
We are typically at our first property at 7:30 am and will work until 6:30 pm. If you have any special requests in regards to the time of day we arrive at your property, we can typically accommodate them.
Are the products safe for kids and pets?
All of the products we use are over the counter, non-restricted use professional lawn products. Once diluted they are harmless, however as a precaution, we ask clients to stay off the lawn until the products have dried, which is usually about 2 hours. We will send you a text notification after service once it is safe to be on your lawn.
How soon can we expect to see results?
Although you will see results after one application, it will take a full season to renovate your lawn, depending upon the condition your lawn was in when you signed up.
What happens if I have weeds in between visits?
Our goal is to provide you a healthy, weed-free lawn, however you will sometimes have weeds in between visits. There are many factors that can contribute to this including weather and thickness of your lawn.
I am not seeing the weeds die after an application, what should I do?
We ask that you wait 2 weeks to see weeds fully die. Although you may see signs of injury within 24 hours after an application, often times it takes up to 2 weeks for the products systemic action to move through the plant and kill the weed.
I still have bare spots, what can I do?
Our predominant grass type is Tall Fescue. This grass type is a clumping grass type and will not spread. This means that bare areas need to be replenished by having new grass seed planted. If you are not on the schedule for fall overseeding, let us know and we can add it!
Do I need to mark my irrigation system before the aeration?
Yes. We ask that you mark all irrigation heads and electric dog fences beforehand so they are not damaged during aeration. We provide clients with the flags beforehand so they can do this before our visit. We will email you in advance so you have time to do this.
How often do I need to water new grass seed?
We provide detailed watering instructions at the time of service, however plan on watering everyday until germination, which usually takes about 7-10 days.
How soon after overseeding can I mow?
Once the seed has emerged, we generally recommend that you wait 2 weeks before mowing areas where new seed is becoming established. For established lawn areas that were overseeded, there is no need to skip mowings.
Do aeration and overseeding need to be done at the same time?
No. Aeration and overseeding accomplishes two different things. Aeration alleviates compaction of the soil and can be done virtually anytime throughout the year. Overseeding replenishes bare areas and improves lawn density and needs to be done in the fall, when temperatures are cooler.
Do I need to aerate every season?
We recommend aerating once every few years while overseeding every year. Most home lawns do not receive enough foot traffic to compact soils enough to need yearly aeration. Overseeding should be done every year as our predominant grass type, Tall Fescue, does not spread, so bare areas will only fill in by planting new seed.
How do I schedule my turn on and winterization service?
Once you accept the proposal for service, you will be emailed a link to schedule our technician to come out on a day/time that is convenient for you. You will receive automated reminders of this appointment as well.
Do I need to be home at the time of service?
We ask that you are home at the time of all irrigation services. Every system is different and the technician will need access to the controller and sometimes water tie-in. If the technician discovers any repairs needed, he will also require you approval of work before repairs are made so it is helpful if you are home for this.
I have some repairs needed, can the technician complete them with the spring turn on?
It depends on the repairs. Simple fixes like changing irrigation heads or repairing small leaks can be done at the time of your turn-on. However, we have many clients to service and many appointments to make on any given day, so if it is a more complex repair, we will need to schedule a follow up visit.
Do I need to remind Campbell to turn on and winterization my system?
No. You will receive an automated reminder of all irrigation maintenance services before we come out. We keep a close eye on the weather in the spring and late fall to provide these services at the optimum time.
How do I pay for my spring turn on or winterization service?
All services require a credit card on file before we can come out. Once the services have been completed, your credit card will be charged for that service.